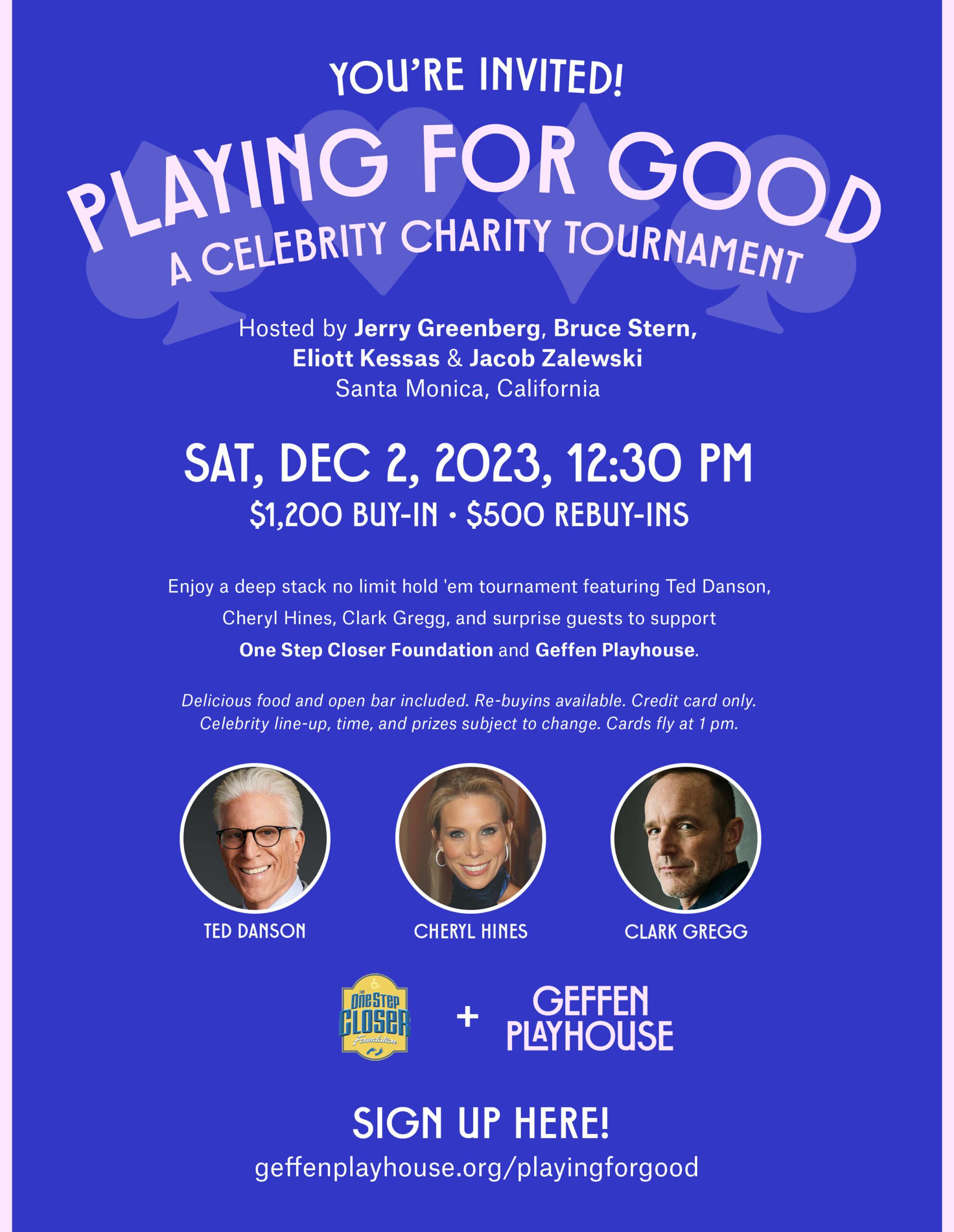 YOU'RE INVITED To An Exclusive Event!
Playing For Good: A Celebrity Charity Tournament
Hosted by Jerry Greenberg, Bruce Stern, Eliott Kessas and Jacob Zalewski
Date: Sat., Dec 2nd, 2023 @ 12:30 PM
$1,200 BUY-IN. $500 REBUY-INS
Enjoy a deep stack no-limit hold 'em tournament featuring Ted Danson, Cheryl Hines, Clark Gregg, and surprise guests to support One Step Closer Foundation and Geffen Playhouse.
Delicious food and an open bar are included. Re-buys available. Credit card only.
Celebrity line-up, time, and prizes are subject to change. Cards fly at 1 pm.
SIGN UP HERE!
Season of Smiles: California Toy Giveaway
Hosted by Disney, LAPD, and One Step Closer Foundation
Date: Wed., October 4th, 2023
The California Toy Giveaway, a collaboration between the LAPD, Disney, and One Step Closer Foundation, is a heartwarming initiative that brought joy and excitement to over 1000 children across the state, with a special focus on those facing challenging circumstances. This collaborative effort engaged schools and hospitals to identify and reach out to children in need of extra cheer.
Throughout the year, culminating in a grand event during the holiday season, this unique partnership organized events where LAPD Officers, Disney, and other volunteers distributed a wide array of toys, games, and books. These efforts brightened the lives of a significant number of young individuals. The aim was to provide not only a moment of happiness but also to instill a sense of hope and possibility. The delivery of these gifts was a powerful message to the children and their families, showing them that their community, along with esteemed organizations like the LAPD and Disney, cares, supports, and thinks of them.
This program transcended the typical toy giveaway; it was a means to foster inclusivity, kindness, and the joy of giving on a grand scale, ensuring every participating child felt valued and special.